Finding a special gift for very young children can be a challenge, but sports "fanwear" sized just for them is sure to be a hit.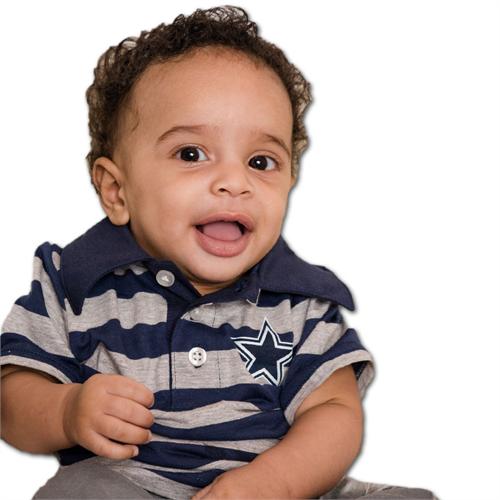 Perfect For A Friend or Co-Worker's New Baby
For most non-parents, coming up with an appropriate gift for a friend, relative, or co-worker's new baby is a daunting task. Even a quick trip through the infant department of any retail store can be confusing at best and frustrating at worst; if you're not familiar with the world of babies, much of what you see will be unfamiliar and the things you do recognize will be either too "everyday" to give as a gift or too expensive to fit your budget.

One excellent answer to this dilemma is baby "fanwear" – rompers, sleepers, gowns, bibs, bodysuits, and other baby clothing emblazoned with the logos of the parents' favorite sports teams. Whether the family is bonkers for baseball, fanatic about football, hysterical about hockey or nuts about the NBA, a gift of fanwear for their little one is sure to be appreciated and remembered.
And don't forget the old Alma Mater; you can outfit the tiniest newcomer in sports gear sporting the logos of most NCAA teams.
Quick Route To Being A Favorite Aunt or Uncle
New babies aren't the only market for kid-sized fanwear. Clothing with licensed sports team logos is a great gift for toddlers and young children, and the styles available for the "bigger than babies" set are surprisingly good looking and varied. In addition to small versions of number jerseys, you can get mini-hoodies, sweatsuits, thermal pajamas, bathrobes, tee shirts and more, all emblazoned with the logos of a favorite team.
More Than Just Clothing
Don't feel comfortable buying an actual outfit? No problem! There are plenty of officially licensed accessories too. Cuddly blankets, hooded bath towels, car-seat covers, pacifiers, bottle holders and more all make great gifts that parents will appreciate.
There's an amazing variety of child-sized outfits and accessories to start the little one out on the road to true fandom. NCAA, NBA, NHL, MLB, and NFL baby clothing with officially-licensed team logos is available in many retail stores, and an exceptional variety of infant-appropriate fanwear is available at online specialty sites like Baby Fans.