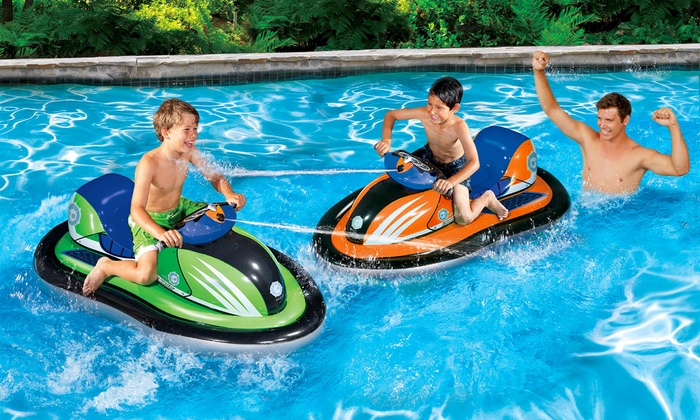 If you're a bit of a speed freak and love to be out on the water or just love powered toys, there are plenty of things you can buy or hire to get your speed fix. From speedboats to jet boards there is something to suit everyone, no matter their age.
There are a lot of different activities and toys to choose from, but this is a selection of some of the best.

Radio Controlled Boats
Battery or nitro-powered RC boats come in a range of different sizes and are available at any budget. They are perfect for kids and are easy to use, although the nitro models often need quite a bit of maintenance.
There is a large community of RC enthusiasts who will be more than willing to give you useful tips and advice on which boat to buy and how to maintain it. Be careful though, this can become an addictive and expensive hobby!
Jet Skis
Any kid watching a jet ski fly past them in the sea while they're sitting on the beach is itching to have a go. If you want to be the coolest parent take your kid out on a jet ski, they'll be talking about it for weeks afterwards.
Motorized Surfboards
These motorized boards can travel up to 36mph and are great even when there isn't much of a swell. They're made of carbon fibre and can be used in any water conditions, even if the water is calm. These boards are used by both racers and hobbyists. If you're just starting out in surfing they can aid you as you can get more practice time in because you don't have to wait for waves or waste time hauling yourself back out to reach the swell.
Banana Boats
Most kids love anything that goes fast and as banana boats are pulled along by speedboats they count as motorized and are pretty fast! These barges are an exciting choice for a party and your child with have great fun with their friends, seeing who can hold on for the longest before being thrown off into the water. When you're away on your summer holiday look out for these boats as they are a thrilling experience!
Waterskiing
Just like banana boats these aren't technically motorized but are pulled along by a speedboat! Water skis are suitable for any age and can be mastered by anyone as long as they're willing to give it a go. Places such as Brighton in the UK have water-sports lakes with pulleys that stretch across the water made especially for water skiing, making it a safe place to learn under careful supervision.
Water Jet Pack
One of the most futuristic toys you will see on water, the water jet pack sucks up sea water and fires it out in jets, pushing you up high into the air. This will be an experience that you won't forget in a hurry. Be prepared for a steep learning curve and be ready to be dunked quite a few times before you get the hang of it!