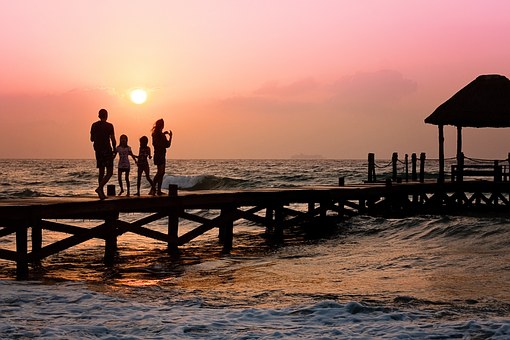 If anybody deserves a relaxing holiday, it's busy parents. But, if you're taking your little one overseas for the first time, then there are few need-to-know things that you must be aware of before you make the booking.
When you're travelling with a baby, toddler or young child in tow, there are many extra factors that you'll need to take into consideration, especially when it comes to planning. Read on for our top five tips to help you have the perfect family holiday you've been dreaming of.
Tip #1. Choose Accommodation Wisely
When you're traveling as an adult with friends or your partner, chances are you see your accommodation as simply somewhere to get your head down at night. But, when you're traveling with little ones in tow, it's wise to invest more into a family-friendly accommodation option.
Since most parents find themselves spending more time at their hotel when abroad, especially in the evenings when it's time for bed, it's a good idea to pick a place that offers a few features to make this easier for you. For example, a television in your room, room service options, and kids' play areas are some of the key things that parents look for to ensure that the whole family is happy during the trip.
Tip #2. Think About Your Location
If you were traveling on your own or as a couple, you might not think twice about getting accommodation that's a bit out of town to save some money on your stay. But, unless you are planning to hire a car, walking to the main tourist areas or the beach from your off-the-beaten track hotel can be tricky.
If you needed an excuse to treat yourself during your trip, then here it is! Although optimally located hotel rooms and villas tend to be more expensive, it's worth paying more for the convenience that you're craving as a busy mom or dad.
Tip #3. Safety is a Priority
Not only should you take the time to check out the area where you plan to stay to gauge how safe it will be for you and your young family, it's also a good idea to consider how safe your accommodation is. For example, if there is a pool available for guests, is this gated? Is there a life guard present at all times?
For parents of toddlers who are discovering their mobility, spending the time pick the safest option provides better peace of mind, resulting in a more relaxing, refreshing break.
Tip #4. Pack Early
The last thing that you want to do when going on your first family holiday is leave all your packing to the last minute. Although it can be tempting to leave everything until the night before, especially if you plan to take things that you use daily at home, having a plan in place for your packing will certainly make things easier.
For example, you could pack everything that you don't need at home a few days or even a week in advance. If you're ordering stunning Jessica Simpson bikinis online, get packing these out of the way as soon as they arrive. Have a list of all the items that you need to take and check them off each time one is packed.
Tip #5. Plan for Flying
Flying on your own might not be a problem, but as a parent, you're going to have a whole new set of potential issues to deal with. Flying for the first time can be daunting for little ones, and after a while, you'll need to make sure that you've got something to keep them occupied for when the boredom kicks in.
If possible, it's a good idea to book your flights in the evening, so that it coincides with your child's bedtime. This way, you can make sure that they're comfortable in their pajamas with their favorite teddy bear whilst they peacefully sleep through the journey.
Tip #6. Plan Travel and Transfers
Knowing exactly how you're going to get to your accommodation is important when you're traveling with kids in tow. It's best to opt for the most convenient transfer option available. Usually, you'll be able to find taxis and transfer buses that can be booked to take you directly from the airport, or your hotel may offer a pick-up service.
Don't forget to consider how you'll get around once you're there, too. If you're not hiring a car, it's a good idea to stay someplace close to public transport routes and taxi ranks.
Share your top tips for planning a great family holiday in the comments!