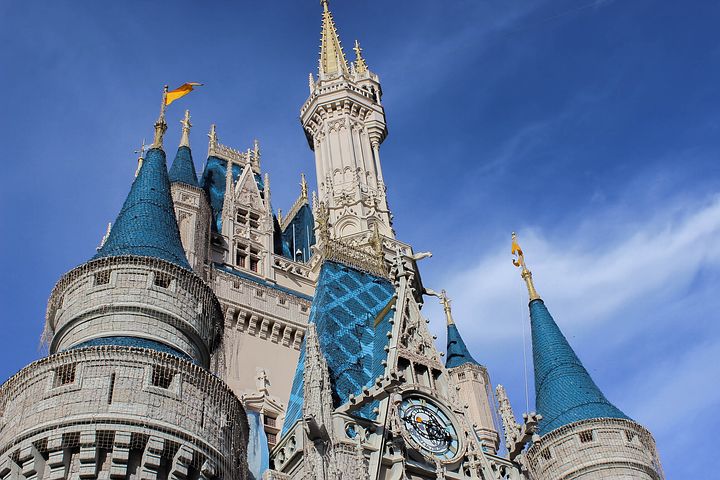 No visit to Florida is said to be complete without stepping into the exciting world dreamed up by Walt Disney. There is enough to see and do at the Magic Kingdom alone to fill several days' worth of itinerary if you wish to do so. Beyond Magic Kingdom, there are also attractions like Epcot Park, Typhoon Lagoon and Blizzard Beach Water Parks, and so much more. But it makes sense to start at the Magic Kingdom because it's the most famous and where the magic comes from!

Let's now step behind the velvet curtain to discover more about Disney's Magic Kingdom in Florida.
Don't Get Overwhelmed. Avoid Getting Lost!
The Disney Park is so enormous that it's easy to walk around in circles and get lost despite everything being very well signposted. You should want to preserve your energy to enjoy the best things that Disney World has to offer. Take many fun rides during the day and dine out well at night in the wide selection of themed restaurants with interesting cuisines from around the world.
Using a Disney World map is a great idea. You can bring a physical one along with you or use an app to keep the map handy. Disney themselves have an excellent app for both Android and the iPhone with a live map and GPS active coordinates to help avoid getting lost. Track wherever you are and take the worry out of it.
Getting Your Bearings
When first entering the Magic Kingdom, you'll find your way through to Main Street U.S.A. and feel right at home. From there, you can venture into themed areas like Adventureland, Tomorrowland, Liberty Square, Fantasyland or Frontierland. Each themed area of the park usually has a selection of rides to take and several attractions to visit along with a few restaurants to choose from when you start to get hungry.
Bookings and Queuing Times
What most people don't understand clearly about Disney parks is that many restaurants become so popular that they're booked up on the day. For people who are visiting the park over multiple days to fit more attractions into a trip to the Orlando area, it's sometimes possible to book a favored restaurant on a subsequent day.
For the rides, the queuing times vary depending on how many people are visiting the park at that time of day. On school holidays, the park is usually filled to capacity and waiting times, which are clearly indicated at each ride, can stretch into hours of waiting. Everyone try to avoid queues with Disney tickets.
How to Avoid Booking and Queuing Times
Package walking tours from Magic Kingdom VIP tour solves the problem for people who prefer to be shown around the best attractions while enjoying VIP access to the park. Do you have a restaurant that you're really interested in eating at? There are tables reserved for VIP access and sometimes the tour company can use their connections to get access even when the restaurant is officially booked up.
VIP access also allows reduced or eliminated queuing times at the Disney rides which makes the whole experience far more enjoyable overall. You don't spend half your day queuing up and struggling to fit more rides into a one-day visit. Instead, you're able to prioritize the rides that you believe you'll enjoy the most and fit them into your schedule easily without wait times holding you back. It's quite possible that what you may pay for VIP access can reduce an Orlando visit by one day due to the time saved, especially on school holidays.
Height Restrictions
There are some height restrictions on certain rides at Disney World. This is mainly to prevent small children from slipping out of restraints or harnesses and getting injured. There are places to measure each of your children to ensure they're tall enough to go on the ride they've chosen. Fortunately, with the benefit of the VIP tour, this can be taken care of without wasting time queuing up for a ride that smaller kids might not be able to participate in.
Free Wi-Fi Access
Disney provides free Wi-Fi access throughout the Magic Kingdom. How could it be a magical place without internet access? In fairness, due to the materials used in created different rides – especially the indoor ones – complementary internet access inside Disney's Magic Kingdom varies depending on proximity to the closest signal source and anything obstructing line of sight to that signal.
You're better off enjoying your day and catching up with your email and social media in the evening. However, you're unlikely to miss an urgent message from a loved one while in the park once you sign into the Wi-Fi network and the restaurants have internet access in most cases too.
We'd recommend using a virtual private network app to encrypt your connection to the internet source. A VPN app like Tunnel Bear offers 500 megabytes of free data transfer per month and protects your communications from interception while at the park. A little peace of mind means you can enjoy your trip even more.
Other Disney Attractions in Florida
Once you've enjoyed the Magic Kingdom, there are plenty of other well-designed attractions to visit. Epcot Park is world famous and continues to draw the crowds. The Disney's Hollywood Studios Park is a great visit for any lover of movies, cartoons and TV. There is plenty to see there and Hollywood-themed rides to go on too.
If you love getting wet, then both the Blizzard Beach Water park and the Typhoon Lagoon Water park are unlikely to disappoint. Greater for big kids that now hold the official title of "grown-ups" and children alike! Elsewhere, animals large and small, exotic and familiar, are almost within arm's reach at Disney's Animal Kingdom Park.
There's never any shortage of things to do and see while in the Florida area. Beyond the wildlife in the state, the great weather, friendly people and copious entertainment options make it an excellent vacation spot. The main difficulty will be deciding how many days to book there because there's so much to do. You may have to plan for a return visit because most tourists discover on their first time through that it's just impossible to see everything in one visit.