Let's face it. Kids nowadays have access to much more things than when our parents were kids themselves back in the days. Not only does technology play a huge part in children's lifestyles, but the baby industry in this millennium have significantly boomed due to more marketing channels. Parents are more bombarded with options and because the demand has never wavered, the industry for babies and their needs have become more widespread and commercialised.

Kids have pretty much inherited their parents hoarding skills – by accumulating so many items like toys, books, clothes and many other accessories. Storage for children's stuff is often challenging because of the volume, size and variety of the items. There is also the importance of striking the balance between choosing designs that are kid-friendly but are also aesthetically pleasing and practical.
Make your choices more varied and playful, but keeping in mind the space it will occupy and its efficiency in keeping your kid's areas clutter-free. You can start with probably the messiest – the bedroom. Here are some awesome ideas for kid bedside tables:
Dual Purpose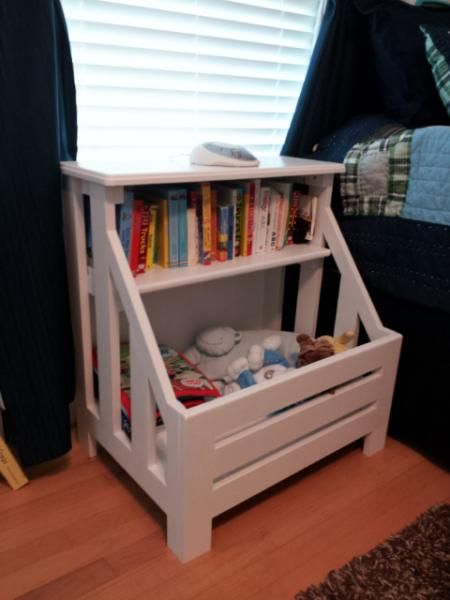 Keep important items handy and within reach by having these crate-type kid bedside tables in their bedroom.
The top shelf can serve as a decorative area for placing picture frames and smaller keepsakes.
The second shelf can hold bigger items like books and glasses. While the crate itself can serve as a container for bulkier items like their favourite night time toys or bigger colouring books.
The style is simple and practical and can save a lot of space in smaller bedspaces. Similar to Morgan 2-drawer bedside table from Domayne. 
Fun and Playful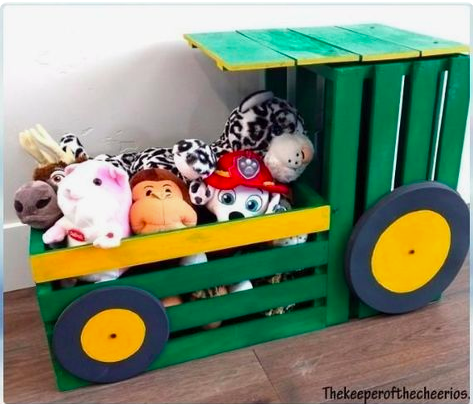 To make your kid's bedroom closer to a theme, you may also opt to a more playful kid bedside table design like a choo-choo train.
This wooden bedside table offers the same convenience of having a top shelf that is easily accessible for putting things on – like a glass of milk and a plate of cookies. While having the lower crate serve as a basin for large objects like stuffed animals, balls, dolls and even books.
The design is cute, the colours can be more playful and it will also be easier to clean and wipe around.
Girly and Cute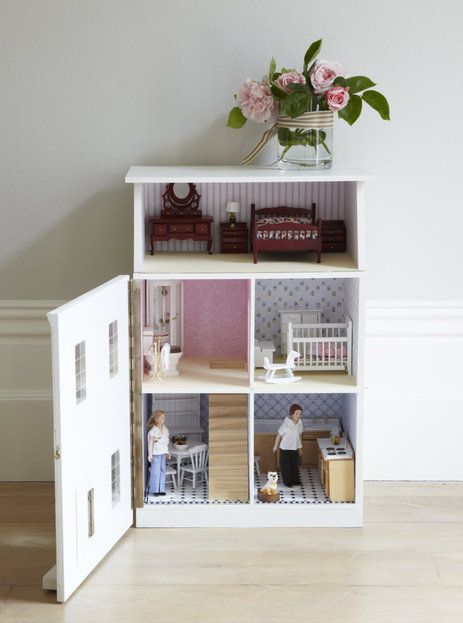 Here is one that may tickle the fancy of your little girls – a kid bedside table that converts into a dollhouse. The lower shelves are adorned with home-like partitions that can serve as the different rooms for the dollhouse and are all spacious enough to allow the dolls to be placed inside.
Little furnitures can be used to design the overall dollhouse and the kid bedside table itself can be painted with matching colours.
The top shelf can still serve its purpose for placing different items near the bed – like a small vase, a cute lamp, or the dolls themselves arranged neatly.
This will surely brighten up not only the room but the playing experience of your little princess.
For the Boys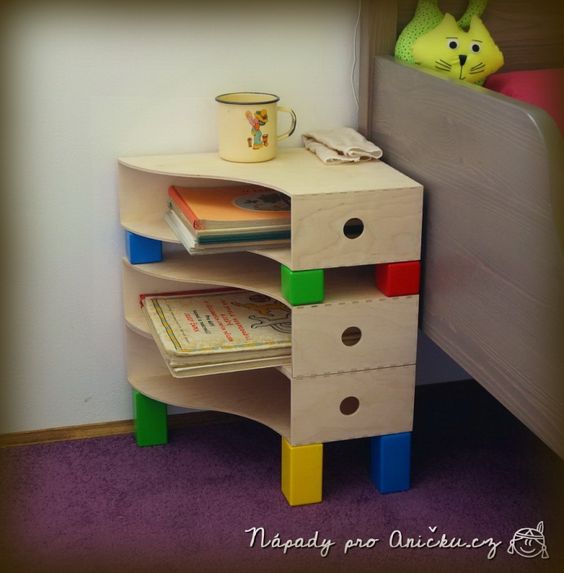 With Lego making a huge comeback in the market, a brick-themed kid bedside table would be great for your little dudes.
Following a more geometric shape, it is unconventional and you can play around with bold, solid colours to make the bedside table more Lego-looking. The shelves provide practicality in storing stuff like books for bedtime, small plush toys and other little items.
It has a good shape as well that will make the room more spacious and convenient. 
Classic Vintage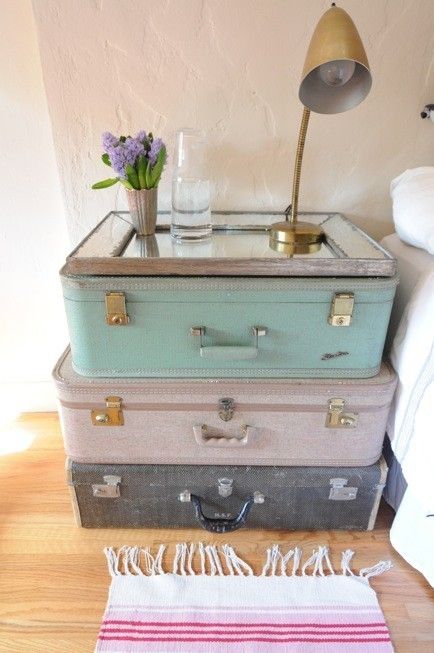 More and more homeowners and modern-day parents choose vintage styles when decorating their children's bedrooms, and this vintage suitcase theme as a kid bedside table is not only unique, but it is eclectically tasteful.
The combination of the pastel colours combine well with simple patterns, no matter what the bedroom's main theme is.
The use of the suitcases stacked on top of each other provides a sturdy balance, while being able to use the top as a shelf for holding items like lamps or picture frames.
It is the perfect mix of old and new.
Click here to see an array of kid bedside table from Domayne to give you more ideas on your next home project.
Take out your creative hats and get started on these exciting projects!