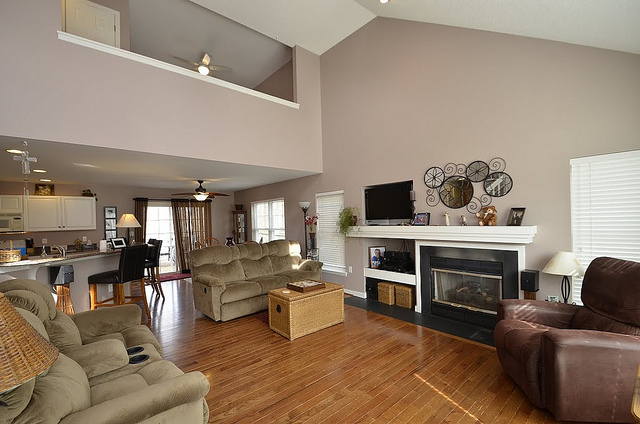 Image by  Frederick Homes for Sale 
When you have young children, the chances are that you will spend a lot more evenings at home than you used to. For one thing, you may not have the energy to go out after a full day at work and picking up the kids from nursery or school, or even if you've just been at home with them all day. Aside from energy levels, you've also got to consider babysitting costs if you do go out in the evening, as well as the expense of the night's entertainment, whether you go to the cinema, the pub or out for a meal.
It's not surprising that for couples with young kids, nights out become rare occasions. However, that doesn't mean staying in has to be dull. As long as you have plans for how to spend your evenings once the kids are tucked up in bed, you can have fun. Here are just a few ideas of what you could do – either by yourself or with company.
Thanks to the internet, we have constant entertainment on tap. You may not be able to find anything you want to watch on TV, but there's always something fun going on online. Online bingo is a great example. It's a game that's simple and easy to play, yet could lead to some amazing cash prizes.
Since it became possible to play online at sites such as 32red, Gala and Cheeky Bingo, players have signed up in their millions and you can bet that many who would never have bothered to frequent a bingo hall will now be playing at home on their tablet or PC. Sign up to play 32red online bingo games and you'll get a free £10 to play with, even before you've made a deposit. Add in some of your own money and you'll get a welcome bonus of an extra £32 for every £10 that you put in on a first deposit.
It's easy to see why online bingo is such a popular game. Not only is it simple to play, but you can chat to other players in the bingo chat rooms while you're playing. So, it's also social. It's ideal for those times when you yearn for company but don't have the opportunity to go out and meet people face-to-face.
Of course, bingo is just one way to spend an evening in at home. You could devote evening time to working on your fitness. You may not be able to afford a gym membership – or have the time to go to the gym – but you can exercise at home and use one of many different apps to help you focus. For example, there are some great yoga and Pilates apps out there, where you can pick different programmes to suit your ability and the time you have to do a workout. Try Perfect Pilates Body or Simply Yoga and see how you like them.
The evenings are also a great time to get creative – without risking being interrupted by the kids. Pick a skill you'd like to learn – such as knitting, crochet, jewellery-making or painting watercolours. Whatever you want to learn about, you'll find tutorials online and it's really easy to order materials that you need to go with these new hobbies.
Staying in at home once you've had kids needn't mean hours of watching rubbish reality TV and soap operas in the evenings. It can be your special time, when you get to do something that's just about you. Make the most of the peace and quiet and enjoy!