Holidays are something to look forward to during those interminable days at the office where nothing seems to be going right and your boss is on the warpath. In an ideal world, everyday would be a holiday, but for most of us, the only proper holiday we can afford is a trip away for a week or two once a year. So if this sounds like you, it is important to plan your trip away carefully – and this means packing the right clothing and accessories.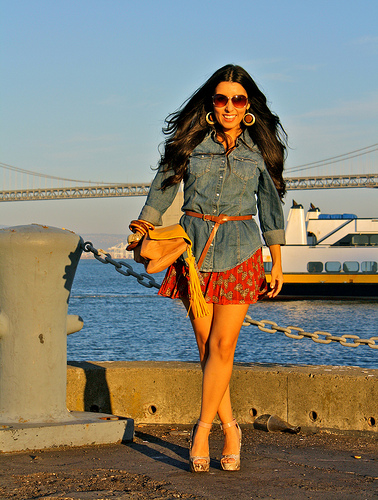 Photo by Flor de Maria Fashion
Make a List and Check It Twice
Just like Santa, make a holiday list and check it twice before you set foot outside the door. It is all too easy to forget to pack something essential in the mad last minute rush before a holiday. Often you can buy replacement items once you arrive at your destination, but if you forget to pack a favourite pair of shoes or a slinky new bikini, the holiday won't be off to the best start.
Five Top Travel Fashion Items
Sunglasses – It doesn't matter whereabouts you go on your annual summer (or winter) holiday, a pair of quality UV protective sunglasses are a top travel accessory. Any quality brand will do, but we particularly like the designer shades available from Red Hot Sunglasses.
Hat – Hats are perfect for shielding delicate faces from harsh sunlight and hiding bed hair after a heavy night on the town. Wear a baseball hat to keep your hair away from your neck or choose a wide brimmed hat to protect your head from the sun.
Sandals – High heels are a seriously bad choice if you are heading to a beach resort (although you should pack a few pairs for nights out on the town). Instead, pack some sandals as they are more suitable for strolling along a beach or browsing through shops.
Sarong – A gorgeous coloured sarong is the ultimate versatile fashion accessory for holidays. Sarongs can be worn as a beach cover-up, a skirt or a dress, depending on how you wrap it around your body. In fact they are so useful we reckon you should pack several.
Bo-ho t-shirt – Denim hot pants are out this season and loose fitting bohemian inspired tops and vests are in. With this in mind, make sure you pack a couple of on-trend garments so you look hip in the crowd.
Essential holiday wear is very much dependent on where you are travelling to. For example, if you are going somewhere hot and tropical, you won't need much beyond a few bikinis and some loose fitting garments for day trips and evenings out. However, if you are heading off on a ski trip or a few days hiking, a completely different wardrobe is advisable.
If you are unsure of what the latest travel fashion is, buy a few glossy magazines before you go to see what the celebrities are wearing on the beach right now. You might not be able to afford their designer gear, but the high street stores always have cheaper alternatives for fashion conscious travellers.