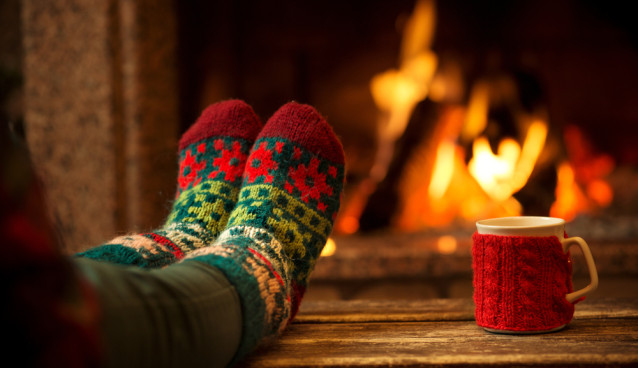 It really doesn't have to cost a lot of money to decorate a home for the holidays. Here are some ways you can get the job done simply and effectively.
Use What You Already Have
If you've already got decorations, use them. Most people get hand-me-downs from their friends and relatives. Christmas ornaments from mom when you were a kid. A friend's going away gift. Maybe you still have those ornaments you made in school.

And, when you use what you have, you not only save money, you're able to reminisce about your youth.
Take Advantage of Deals
Don't be afraid of venturing out of the house for Black Friday deals. You can do a little shopping for friends, but also pick up things for yourself and the home. Christmas gifts don't have to be expensive, and neither do decorations. And, if you're shopping on Black Friday, you'll probably end up walking out of the store with the deal of a lifetime.
Shop at Discount Stores
Take a look around where you live. Most towns and cities have discount stores. These types of stores sell Christmas decorations that are very inexpensive. You can usually fill up a whole house for less than $100. In some cases, even $20 will get you most of the way there.
You could also shop online at Bed Bath& Beyond. They have a good holiday shop selection for Thanksgiving, Christmas, and New Year's.
If you have a tight budget, but you can afford some store-bought pro decorations, spring for them at low-cost discount stores.
DIY
This takes time and creativity, but it's one of the coolest ways to decorate your home. Sure, you could go out and buy something. But, what's the fun in that? Go outside. Nature provides you with most of the raw materials you need. And, if you're decorating with a "country Christmas" theme, then all the better because most of the "country" themed Christmas decorations that are sold in stores are made with things you can probably pick up in your backyard.
Example: go in the backyard and look for pine cones. They're probably out there somewhere unless you live in the desert.
Pick up a few pine cones and take them inside. Clean them off. Get some hot glue or crafter's glue and glue them together in a pretty three-piece arrangement. Or, get some string from the craft store and string them together. Now you can hang them up anywhere in the house.
If you want something that smells nice, pick up some essential oils and make a spritzer with oil and distilled water. Spritz all the pine cones with scents of pine, mistletoe, and cinnamon.
If you act early enough, you can grab a few leaves during the fall and laminate them. Then, string them up around the house.
Break out your dehydrator and dry out some apple rings. String them up. There's another decoration that didn't cost a lot.
Go to the craft store and pick up frosted spray (it makes things look like snow). Now you can spray the bushes outside, or the tips of your pinecones, or pretty much anything. Get creative with it.
If you put your mind to it, you'll come up with some pretty amazing decorations – and, no one else will have them.
Angelyn Lee has first-hand experience of raising a family on a budget and likes to share her tip and ideas with an online audience. She writes regularly for a variety of family-orientated websites.