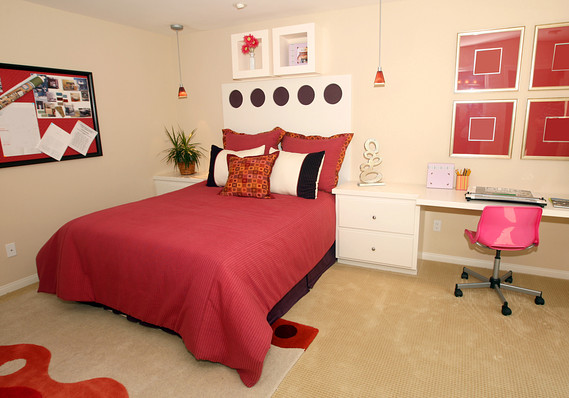 If you have a child, you will know they are never satisfied. They will constantly want to show you and themselves how much they have grown up. This can sometimes be difficult when they want something big, in this instance a total redesign of their bedroom. Redesigning a room totally can be expensive as you will be aware, but there are ways you can cut the costs to make it manageable. Here are some useful hints which may make your child's dreams come true.

A Lick of Paint
When looking at a bedroom design the first thing which stands out will be the color scheme and when redesigning a child's room, a change in color can be an effective thing, without costing a fortune. By painting the walls or furniture and giving them a different look, it will change the style of the room and as your child grows up it will allow them to demonstrate their new found maturity. By simply buying paint and painting yourself, you will save on buying new fittings and the cost of labor, keeping it within with a small budget, and it's a lot simpler than you may think.
New Accessories
One mistake which is commonly made is that in redesigning your child's room you will have to replace all the wardrobes, drawers and bed. Though your child may be demanding this there are other ways you can make the fittings look totally different, as described above painting is one option, but there are other ways. By simply adding new accessories to the room you can change the way it looks entirely. One of these things could be by adding a few simple pillows which can make the room look more snug and comfortable. Another could be by adding photos and lights around the room to create an ambience, such as adding fairy lights around the top of the bed to make it more relaxing and creating a different feel. Perhaps another thing you could do to make the bed look different is something as simple and cost-effective as changing the bedding; a change from one style to another may make your child think they have got what they wanted and make them feel more mature.
Furniture
The most expensive way, especially on a tight budget, to redesign your child's room may seem to be to buy new furniture; a chest of draws, a new bed or new fittings. There are several ways you can save on the cost of furniture. Firstly by buying second hand furniture which is in good condition you can greatly reduce the cost. Also, by asking family or friends if they have any furniture which is going spare or being thrown out which you could have is another. Finally there are also now ways to save money by buying from big dealers such as Amazon and Bed Bath and Beyond; discount vouchers can be found at websites such as discountrue.com to save some more money.
With these three tips, you can save money and redesign your child's bedroom for a reasonable price.