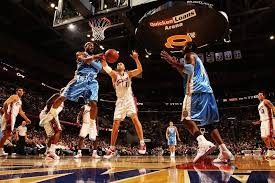 What is it about being a parent that really brings out the creativity in your life?  When you have a toddler running around the house, you want to do whatever you can for them and that might even be creating the perfect morning for them each day.  This involves being more creative than you were the day before to ensure they always have something new to experience.  New experiences, for children, come very quickly, and as they get older, these experiences get a little more intense each year.  When do you think you are ready to take your child to their first NBA basketball game?  Let's discuss that now.
Preparation Needed Before You Go
Typically, if you are planning to take your child to their first NBA game, then you must have an interest in the sport as well.  To the child, depending on the age, the teams that are playing are less important to them then all the noise, the food and the walking to get to your seat.  That is why you are going to have to prepare for the adventure, even before you leave for the game.  These are things that you may not have really thought about, but they are important in order to have a successful experience and one they will remember.  Make sure you have all of the necessary things packed to ensure a successful trip.
Is your Child Interested?
One of the first things that you might want to consider is whether or not your child is even interested in the sport.  Many times, if a child is watching mom and dad cheer for their team, they will follow suit.  When your child is asking about the team, wanting to know when the next game is on, it might be time to start planning your trip to the stadium.  The NBA has plenty of good teams and even if you are following one that is not as good as the rest, you want to try to ensure their first experience at an NBA game is a win.  This will give the child a connection with the team and start building on the love for the game that can live for many years.
Getting the Tickets
If you do not attend many games, being able to get a good seat can be all part of the experience that you can share with your child.  Today, it is easy to get online, go to ticketoffices.com and look around for the best possible seats.  Back in the day, this was hardly an option, so make sure you child understands that.  Get your seats in an area where the action will be visible the entire time, but which offers an easy exit should things go south while you are there.
All in all, whether your trip garners a win or even a smile on your child's face, the experience is one you can build on and learn from as well.  Children are impressionable and one good day at the stadium can mean a lifetime of watching the sport!