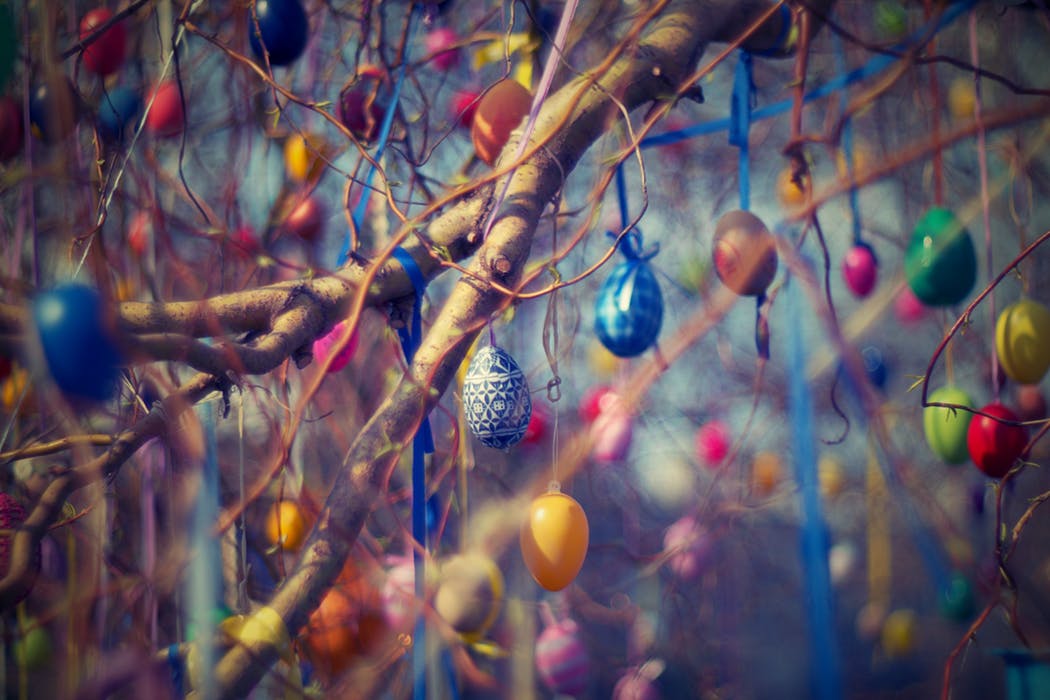 Think of Easter, and you'll probably imagine a mountain of brightly-wrapped chocolate eggs, but Easter doesn't have to only mean an overdose of chocolate eggs followed by a post-sugar slump in front of the television. Instead, this Easter why not get your whole family together for some wholesome festive fun, with anything from hosting your own Easter-themed fancy dress field day to getting creative and painting your own egg-shaped works of art. Follow these top tips for family fun ways to get everyone involved in celebrating Easter and the arrival of spring in style.

Get Crafty
There is a wealth of Easter arts and crafts activities the whole family can enjoy from creating Easter bonnets to painting eggs and making wearable bunny tails. An Easter classic is egg painting so get the colorful paints out and let your creative spirit free painting eggs in whatever styles or colors appeal. You could even theme your egg painting with anything from a traditional Easter chick and bunny scene to whatever wild and wonderful things you could imagine. For example, go for an underwater theme and paint each egg with glittery blues and greens, covering them with fish, jellyfish, lobsters and other sea creatures, and creating mermaids from salt dough to perch beside them in the bowl. Or create bright eggs using shaving foam and food coloring. Sprinkle a few drops of different food colorings into the shaving foam and create swirls of colors using your hands, roll your hardboiled eggs around the shaving foam and leave them for the colors to soak into the shell for twenty minutes, placing them on some kitchen towel in an empty egg carton. Once the timer is up, wash off the shaving foam and admire your beautiful and bright eggs.
Secret Easter Bunny
Everyone's heard of Secret Santa but why should present-giving be reserved for Christmas time only? Spread the joy this year and begin a Secret Easter Bunny tradition. Buy a packet of plastic hollow egg shells, hand them out and ask everyone to buy, or better yet make, a small present and put it in the shell, ready to be handed out anonymously. Everyone gets to choose one egg and guess who the present was from.
Tasty Treats
Although Easter is commonly associated with chocolate eggs, there are a wealth of other food-based traditions, so get creative in the kitchen and host an Easter feast. Begin the day with a breakfast of sweetly spiced hot crossed buns, a ham and egg casserole or baked eggs, and an iced tea to get you ready for the day. For lunch, go for a roasted leg of lamb with balsamic glazed carrots as a side dish, followed by a delicious frosted carrot cake and tiny chocolate eggs to nibble on. For the adults only, why not sip a little fruity sangria punch alongside it to get the party truly started?
Get Active
After all those chocolate eggs there's a good chance you might want to get active and burn off some energy so why not host your own Easter-themed field day? Ask everyone to come in fancy dress and expect hilarious fun as you watch bunnies and chicks run obstacle courses and race each other in a relay. Plan some festive races including a hop-along race to see who is the fastest hopper, an egg and spoon race, and an Easter sack race with all competitors wearing rabbit ears and hopping to the finish line.
Go Hunting
Chocolate Easter egg hunts are traditional entertainment on Easter day so sprinkle your garden with a variety of chocolate eggs, hand out the baskets and let the hunt begin, or try a variation on the theme. If you'd rather limit the chocolate consumption you could create a fun hunt by putting activity suggestions inside plastic egg shells to be found, for example 'Say a tongue twister ten times' or 'hop on one leg for 30 seconds'. Don't let the fun end at dusk, instead go for a glow in the dark Easter egg hunt at night. Put a glow stick and small candy inside each plastic Easter egg shell. Hide them throughout your garden or local park and wait until dark, then let the glowing egg hunt begin. It will add a whole new level of fun to searching out the chocolate treats. For a wealth of other Easter scavenger hunt ideas try Riddle Me Easter scavenger hunt clues.
Fun and Games
With a little bit of effort, you can transform classic children's games into Easter-themed ones. For example, wooden skittles can easily become Easter–themed with the addition of some bunny ears and stick-on eyes and then let the bowling commence. Or you could try a seasonal variation on pin the tail on the donkey using a big pin-up picture of a bunny instead and a fluffy cotton wool tail to be pinned on. Hard-boil some eggs and play Push the Egg, where each player races to push the egg along the course using only their nose and the fastest pusher wins. For another sweet game get or make a rabbit piñata and let the children go wild on it. Or for a guaranteed winner of a game ask two adults to hold a string taut at the height of the children's mouths, with ring doughnuts threaded on to it. Each player must eat their doughnut using only their mouth, no hands allowed.
Edible Easter
Ever wanted to try a making Easter egg chocolate bark, Easter bunny brioche or a chocolate cornflakes nest complete with tiny eggs? Baking with children can be lots of messy fun, and this Easter is your chance to don your apron and whip up some tasty delights in the kitchen with your children, all with an Easter theme.
Go Green
Easter signals the arrival of spring, as well as telling a story of renewal and rebirth. Get in touch with nature and the season of renewal and get everyone involved in the gardening for a celebration with long-lasting effects. You could start a new tradition, and each Easter day you and your family plant a tree together in the garden or plant new flower and vegetable seeds and watch them grow over the coming months.