Becoming new parents can be taxing on a relationship. Sleepless nights, adjusted budgets, and little time for spontaneity or dates can leave you both feeling neglected and frustrated. But it doesn't have to. Just because life has changed doesn't mean your relationship is doomed. All you need is a little creativity and out of the box thinking on how to reconnect.

How to Have Long Talks Again
Tired of constantly feeling as though there is no time to talk? Take the important conversations on the road. Babies are lulled to sleep by the motion of a car. Strap your bundle of joy safely into his/her car seat and go for a ride. If you don't have a car take a long walk together as a family. Keep walking until the baby is lulled to sleep in the stroller. Enjoy the fresh air and one another's company.
How to Have a Date Night
Budgets and schedules do not always allow for date night, but with a little creativity you can still add some spice and romance to your life. Order in from your favorite restaurant and watch that movie you had been dying to see but weren't able to get away to. Keep paper plates on hand so neither gets distracted by the cleanup. End the night with a drink on the back porch, watch the sunset together, or sit beneath the stars holding hands. The point is to be intentional about carving out romantic moments and keeping the spark alive.
Write Love Notes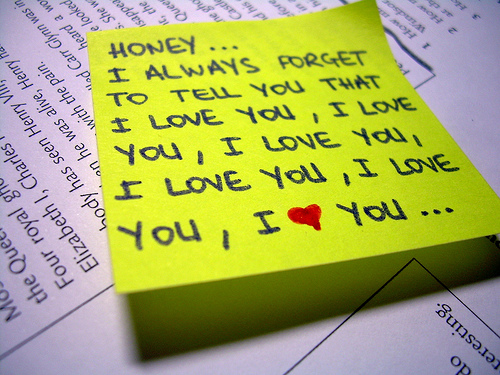 Image via Flickr by srgpicker
Remind one another why you are in love. If you are the first up and out the door before your partner, start the coffee pot and leave an I love you post -it-note beside it. Leave notes around the house, in the car, in a purse or briefcase, or in a lunch box. You'll both enjoy the reminders and anticipate seeing each other once again.
Two Is Better Than One
Household chores do not go away when a new baby is present. Doing home projects like changing air filters and home upgrades can be a bonding moment. Tackling an HVAC project, a home repair, or installation together will help you both maximize your energy as well as your home's. It will also strengthen the feeling of being a team and keep one partner from feeling like most of the work is falling on their shoulders.
Always Remember Your First Love
Don't neglect your relationship. It's important to stay connected. The first year of parenthood is difficult with constant changes, sleepless nights, and changing hormones. A strong bond with your child is important, but so is a loving strong relationship with your partner. Make sure you carve out time for the one you fell in love with first.
After having a new baby finding time for one another can be difficult, but it doesn't have to be. In fact, you don't have to look further than your own home for some great ideas on how to strengthen the relationship with your partner. After all, you loved spending time together before.