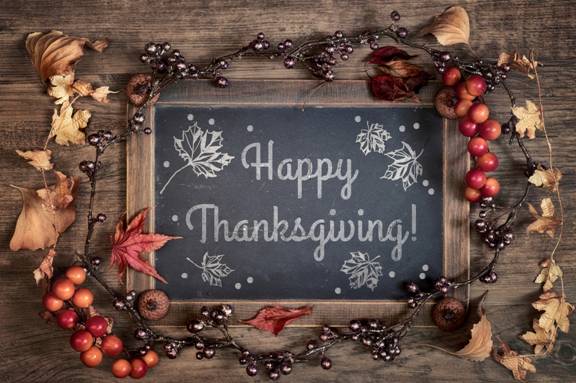 Thanksgiving Stock Photo via Dreamstime.com
Thanksgiving is a special time to gather with loved ones, express gratitude, and create lasting memories. Besides indulging in a delicious feast, one of the best ways to set the mood for this festive occasion is through beautiful decorations. Skip the traditional decorations this year and opt for something unique! In this blog post, we will be sharing five creative Thanksgiving decoration ideas that will make your home stand out and create a warm, festive atmosphere for your guests.
Thanksgiving Banners:
Banners are an easy and versatile way to decorate your home for any occasion, and Thanksgiving is no exception. Create a personalized Thanksgiving banner using craft paper, twine, and colorful fall-themed cutouts. Use stencils or your artistic skills to write words such as "Give Thanks," "Grateful," or "Happy Thanksgiving" on each cutout. Attach them to the twine using small clothespins and hang the banner across your mantelpiece, windows, or even your front door to welcome your guests with a burst of Thanksgiving cheer.
Pinecone Turkeys:
Bring the beauty of nature indoors with adorable pinecone turkeys. Collect a bunch of pinecones from your nearest park or backyard, selecting full and intact ones. With a splash of creativity, transform these pinecones into delightful turkey figures. Attach colorful feathers at the back of the pinecone, using either glue or felt cutouts. Add googly eyes, a small triangular piece of orange felt or paper as the beak, and a red wattle to complete the look. Display these cute turkeys as table centerpieces or scatter them around your home for an instant touch of autumn charm.
Harvest-themed Mason Jars:
Mason jars are not just great for food storage; they also make fantastic decorative pieces. For a creative Thanksgiving twist, collect a few mason jars and give them a harvest-themed makeover. Fill the jars with colorful fall leaves, small pinecones, acorns, or even dried corn kernels. Tie a rustic burlap ribbon around the mouth of the jar and place a tiny LED candle inside to create a cozy ambiance. These rustic mason jars can be arranged on your dining table, fireplace mantel, or any other surface that needs a touch of seasonal magic.
Gratitude Tree:
Thanksgiving is all about counting our blessings and expressing gratitude. An interactive gratitude tree is a perfect way to involve your family and friends in fostering a thankful atmosphere. Gather a few tree branches and place them in a large vase or container filled with decorative stones or sand. Cut out leaf-shaped pieces of paper in various autumn colors. Set up a small table where your guests can write down things they're grateful for and attach them to the branches using twine or colorful ribbons. Watching the branches fill up with gratitude leaves will not only bring joy but also serve as a beautiful reminder of the blessings in our lives.
Pumpkin Ice Bucket:
For a unique and practical Thanksgiving decoration, turn a pumpkin into a stunning ice bucket. Start by selecting a medium or large-sized pumpkin with a stable, flat base. Cut off the top and hollow out the pumpkin, removing the seeds and pulp. Rinse the inside thoroughly and fill the cavity with ice. Now, your pumpkin ice bucket is ready to hold chilled beverages such as sparkling cider, apple cider, or even refreshing cocktails. It not only serves a functional purpose but also adds a festive touch to your Thanksgiving table.
Decking your home with unique Thanksgiving decorations will not only set the right mood for the occasion but also showcase your creativity and appreciation for the season. Whether it's a handmade banner, pinecone turkey, harvest-themed mason jars, gratitude tree, or a pumpkin ice bucket, these ideas will undoubtedly give your home a distinctive and festive charm. By incorporating these creative elements into your Thanksgiving celebration, you are sure to create lasting memories for yourself and your loved ones. So, get your creative hats on and let the Thanksgiving decoration preparation begin!