When we were young, we used to tell time by the streetlights. Everyone has fond memories of playing out in the street before dark, only to be called in for dinnertime. Most adults recall the endless hours of playing outside, the games, the imaginary worlds created with our neighbours and our friends from school. Unfortunately, today's children have quite the opposite mindset. The vast majority of contemporary children dreads playing outside and would prefer to hang out instead on their video game console systems, family computer and television. Contemporary research has shown thatan emerging generation of children spends about five and half hours of play outside per week, which is drastic compared to the 19 hours a week outside spent by children in the 1970's and 1980's.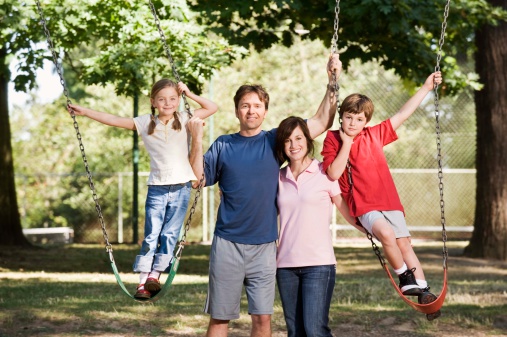 There are many contributing circumstances to this drastic change of activity. A new reliance on technology, double income households and a fear of child predators and safety has made playing outside seem like a dangerous proposition. Yet playing outside can be an amazing way to bond with your children and help them get some much needed exercise. There are ways to convince your children to walk out into their backyard to play. First, consider building an outdoor gym for your child. Swingsets and basketball nets are a relatively inexpensive investment, especially when compared to the hours a child would spend playing on their brand new Xbox or tablet. Children receive a lot of physical benefits from the mere act of swinging or shooting around for 20 minutes. This popular pastime is important for a child's development as it helps develop balance and hand-eye coordination which is vital to everyday living. These simple acts of exercise may also assist in building up your child's focus and attention.
An outdoor play structure, such as a jungle gym, will develop your child's physical motor development as well fostering an environment for imaginative play and social interaction. Jungle gyms work physical muscles as well their intellectual development. For your kids, they can be a fun experience of challenge-building core strength and visual motor skills as they skip from bar to bar. With a little imagination, suddenly they're traveling through a fort or a castle. This kind of imaginative interaction with the outside world draws on different muscles and awareness than the skills a child might develop as they play video games, or by watching television. Time playing basketball with their friends can help to foster fine motor skills, social awareness, problem solving and cause and effect. As your children learn to share and take turns, they will develop a keen awareness of other people. All of these lessons can happen in addition to the exercise they'll obtain while having fun!
By providing your children with a structurally sound outdoor play system, you are contributing to their better overall health and educational development. Better yet, incorporate your child's thoughts and ideas when designing a play structure with a reputable manufacturer. For the sports lover, add a basketball hoop. (The manufacturer Play Rainbow sells a series of customizable basketball systems that can be adjusted as your child grows taller, go to Playrainbow.ca/basketball-systems-2/ to see more details.) The pirate enthusiast may enjoy a built-in helm. Many play structures feature rock climbing walls, rope swings and zip lines. But for you and your child, the sky is the limit on the design, whether you're pushing them on a backyard swing or helping them to win the NBA finals.