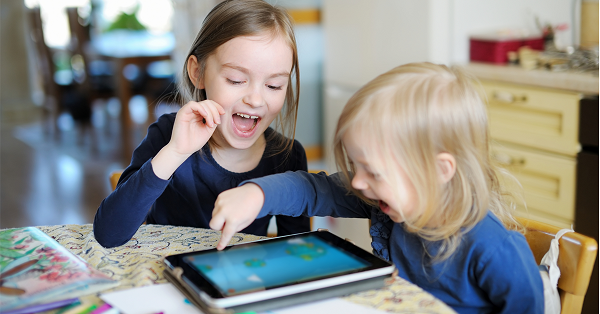 Entertainment is a great way to bring the family together, but it can also serve as a major source of disputes when your loved ones can't decide on one thing they all want to watch, play or listen to. Just think of the last time you hit the road for a little summer getaway — how much planning did it take to make sure you prepared something for everyone to enjoy?

If you went the digital route, you likely had to try and download a whole variety of movies, books, albums and games from a bunch of different services while trying to look into the future and guess what your kids would ask for once you hit the road.
We've all been there as parents and we have some good news: We've discovered a new parenting hack that's just the thing you need to make family travel more enjoyable and stress-free.
Introducing Playster, the world's first all-in-one entertainment streaming service. By logging into the app or accessing it through your browser, you instantly gain access to millions of books, audiobooks, music, movies and games. That's right: All the entertainment you need to keep your family happy and engaged is now in one place. How convenient is that?! Especially on a long car or plane ride.
What Is Playster?
Started by Montreal entrepreneur Philip Keezer, who just so happens to be a father of two little ones himself, Playster aims to make streaming more convenient, accessible and affordable than ever before.
For one low monthly fee, members are treated to unlimited access to Playster's digital catalog and can enjoy all of its content anytime, anywhere, even without Internet access. Perhaps most impressive of all, however, is the fact that Playster's content is diverse enough to satisfy all tastes.
Not only does it include books, audiobooks, music, movies and games, but within each media type, there are tons of titles to choose from, catering to all ages and lovers of all genres.
Is Playster Right For My Family?
"Our goal is to shake up the streaming industry by bringing together all types of entertainment in one place and catering to all family members," says Philip Keezer. "We're especially proud of our profiles feature. Creating a new profile keeps your preferences, settings and playlists separate from others' and each membership is able to house up to three separate profiles. Parents, that means no more having to deal with countless kid-centric recommendations when you log in and no mature recommendations for you little ones."
"What's more, the fee is a flat $24.95 per month and is not based on consumption, which really takes the guesswork and stress out of the equation," continues Keezer. That's right: No matter how much content you and your family consume, the price will never increase. No hidden fees and no restrictions make Playster the perfect choice for families.
Signing up for the family plan is also a nice option that lets you save 50% on the price of each additional membership. And that's not all! Up to five simultaneous logins are allowed from virtually any device just to make things even more convenient.
Before you set off on your trip, everyone can make their own multimedia playlists within their profile to enjoy while on the road. Alternatively, if you have access to Wi-Fi during your travels and you see your kids getting antsy because they can't decide what they want to watch or listen to, you can give mood-based sorting a try.
"Simply tapping on the mood you're in offers up a number of custom-made playlists to match that mood," explains Keezer. "Recommendations are also a great way to browse and discover new content, as they're based entirely on material you've already enjoyed."
Last but not least, the Playster Combo Box is a really unique feature that sets the service even more apart from its competitors. "Anyone who signs up for our yearly membership will be treated to a complimentary tablet and headphones," says Philip Keezer. "It's our way of saying 'Thanks for joining the Playster community!'"
You can keep up with all the latest news from Playster on Twitter and Facebook.