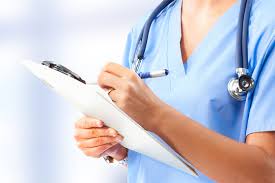 If you think a career in healthcare is dull and boring, think again. Healthcare is the fastest growing industry in the United States and one of the fastest growing ones in the world. Working in healthcare means getting accustomed to fast-paced working environment and a varying degree of challenges every day.

Of course, some healthcare careers are more exciting than the others. If you're seeking new challenges and you want to make the jump to healthcare, here are the top 5 most exciting careers to consider.
Athletic Trainer
Working alongside top athletes and helping them achieve more are part of the responsibilities of an athletic trainer. At the same time, trainers are also responsible for preventing injuries and helping those who are injured recover at a faster rate.
As an athletic trainer, you will also be the first one present when an athlete is injured. The ability to assess the situation and provide the right first treatment are critical skills to have if you want to enter this career field.
Flight Paramedic
A career as a first responder is always exciting, but you can experience the job from a completely different angle by pursuing a career as a flight paramedic. As the name suggests, a flight paramedic's first responsibility is to get to the scene of an accident or the location of the patient quickly, and then provide first aid and an airlift to the nearest hospital.
It is worth noting that flight paramedic is a rewarding career. Look at the median flight paramedic salary and you will know that this is a healthcare career on which you can build a brighter, better future for yourself.
Occupational Therapist
The responsibilities of occupational therapists are very similar to those of physical therapists, but with the focus slightly shifted towards everyday skills. As an occupational therapist, you will be assisting patients in learning how to eat, how to take a bath, and how to master other everyday skills after an injury or an accident.
This too is a rewarding healthcare career to consider. An occupational therapist can bring home over $80,000 in median salary.
A Surgeon
Assuming the role of a surgeon is never easy, there is an endless array of challenges to overcome with every surgery. On top of that, you also have to work harder to get to this position too; it can take a minimum of five years just to complete a surgical residency program.
Reach this career point in the healthcare industry, however, and you will never see a dull day again. Surgeons are also among the best-paid professionals in the industry, with most of them taking home over $200,000 in median salary every year.
Pediatrician
Do you love working with children? Then a career as a pediatrician is definitely the one for you. A pediatrician's task is to help children deal with physical and mental health issues. Having good communication skills and the ability to adapt quickly are among the key skills you must have to be a successful pediatrician.
All of these career options are exciting to explore. If you want to work in healthcare, look into the career paths we covered in this article to get started.