While winter is throwing a tantrum outside, it is all too easy for us to curl up under a blanket and get sucked into the world of technology; keeping up on social media, binge-watching our favorite show, or beating the next level of a new video game. However, many studies have shown too much screen time is bad for both our bodies and our minds, especially for children. So instead of fightingthe winter blues by being pulled into an electronic vortex, grab a warm coat, snuggle up with a scarf, and venture into the great outdoors.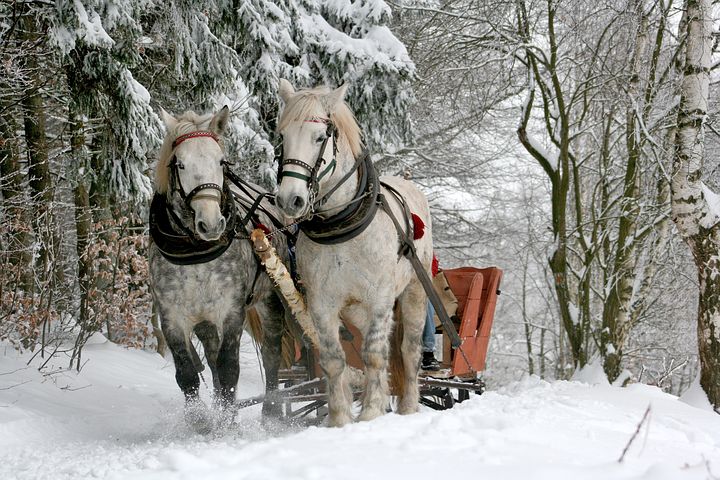 There are many benefits to spending time outsideeach day.Even just a few minutes can elevate your mood, increase energy, and help burn off some of that holiday indulgence.Just because the weather is grayer, colder, and at times down right frightful, doesn't mean we should completely give up on spending time in nature.
Here are 10 ways you and your family can experience the wonders of winter. Click on the links to learn more about each activity.
1)Snowflake Science – Help your family understand how snowflakes form then head outside to observe the different shapes and sizes a snowflake can be, finish up by trying to catch one on your tongue.Your kids will have so much fun they won't even realize it's science!
2) Nature Sleuth – Scavenger hunts are a blast all year round.Bundle up and take a walk down the street, head to a park, or explore your own yard. Look for icicles, frost, or try to find bright colors hidden among the white.
3) Camp Winter – Recreate the fun of summer camp with snow games, sled races, and snow fort building. Have your kids invite their friends over, the more the merrier!
4) Build a Fort – Building forts is one of the best parts of being a kid. Encourage your family to work as a team, share ideas, and then snuggle into your outdoor fort to enjoy a mug of cocoa. If your winter is filled with more rain than snow, no worries, forts can be built with anything; plastic tarps make excellent roofs but can be used for a nice dry carpet too!
5)Animal Tracks – Visit your local library to find a book on animal tracks.After studying up, see who is living in your neighborhood park.Looking for tracks works great in both snow and mud!
6) Feed the Birds – It can be hard for birds to find food in the winter so help our feathered friends out by making a bird feeder.Your family can spend time together making the feeders and seeing who comes to visit them. Check with your local Audubon Society to see what birds live in your area and what their favorite snacks are.
7) Ice Sculpting – Help your child find their inner artist by creating sculptures out of ice. Have neighbors join in to make a gallery of ice sculptures on your street. If using balloons,remind your family to pick up any pieces on the ground, a hungry bird might think it's lunch.
8)Scientist Senses–Children of all ages can have fun using their 5 senses to explore nature in the winter. After exploring, have them think about what is the same and what is different in the winter compared to the summer.
9) Winter Stars–Winter is a great time to look at the stars, especially for those with an early bedtime.Wrap up in blankets, bring a thermos of hot cocoa, and check out the constellations.
10) Winter Artist – If your yard looks dreary during the winter, let your kids spruce it up with some garden art. Have them collect items likes rocks, leaves, and sticks then create their own mosaics and sculptures. Have each child then share what they created with the whole family. Bundle up, and head outside with your family to see what nature has to offer when there is a chill in the air. Your children will burn off some pent-up energy and get in touch with their inner scientist while the whole familyenjoys walking in a winter wonderland!