Spending time with your kids as a family is always the most important time a family can have. However, in order to make sure that everyone's there is having a family entertainment hub. This is even more important if the children are toddlers or kids who still need some entertainment. This is, however, not only a place where families watch TV or play games, it's a place where everyone can do whatever they like and still spend time together. So, if you want to set up your own family entertainment hub and you have no idea how and where to start, take a look at this guide.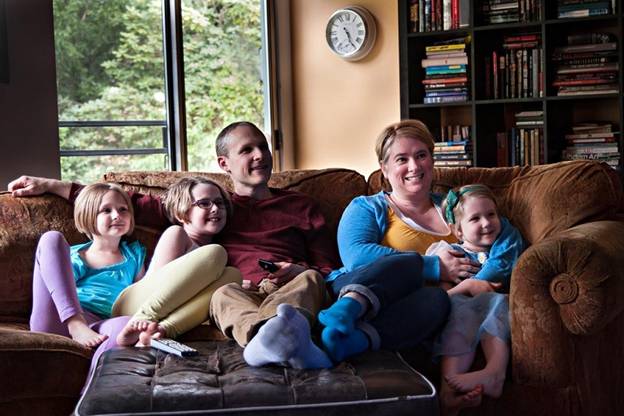 Imagine what you want
Of course, before you start planning out the color of the walls or picking the new furniture, it would be best if you imagined what you actually want. Gather inspiration from people you know or find some entertainment hubs online and see which one you like. Also, it's important to know exactly what you want to include in your hub, and you want to do there. Is it for watching movies and playing games? Australians, for example, really love watching TV (they watch TV more than use the internet at home). What about having a small nook for reading? All of these things matter a lot as they will determine the price of your entertainment hub, but most importantly, the look of it.
Consider your living room
The place that most families opt for is the living room, which is an excellent option, but you definitely have to rethink your furniture options. If you want to free some extra space, you can always opt for TV wall mounting in Brisbane, Sydney or any other major city in Australia and thus free some space from your cupboards or shelves. Moreover, push your furniture back and free as much space in the center of the room as possible. Finally, think about a soft carpet or area as your children will spend a lot of time sitting on the floor in front of the TV.
Go wireless
One of the perks of living in 2019. is the fact that everything can be wireless. This means that if you're already investing in a new family entertainment hub, you could invest just a bit more and opt for wireless options. Nowadays you can even find systems with wireless compatibility at the same price as the regular ones,. This is a great way to get rid of the wires and cables, and you will definitely appreciate it after some time.
Furniture matters a lot
When it comes to furniture, it's your job to provide the maximum comfort for your family. Opt for very comfortable seats and couch, and also use the perks of throwing around lazy bags and cushions all over the floor. One of the biggest mistakes that many make while creating an entertainment hub is the choice of tables. One coffee table is a bad idea, so you should get several small ones that you will put next to each armchair, lazy bag or couch so that everyone has their drinks and snacks within their reach at all times.
Don't skip the gaming system
If you want to bring your hub to a higher level and be even bolder, consider adding a good gaming system that's not only for children, but for adults as well. There are plenty of family-friendly games that you can play as a family, add some only for your children and several for you and your gaming friends when your kids go to sleep. It's definitely an activity that many enjoy in.
Yes, creating a perfect entertainment hub is a bit challenging, but it's definitely worth the money and the time spent creating it. You will spend so much time here, so invest a bit in the decoration and you're good to go. Calling in sick to work tomorrow because you want to stay in your hub and play games? It is definitely a plausible option.