Perhaps it feels like your home is crying out for a major renovation, but you can't afford a big project. Maybe your home feels dated, but you don't know what you can do without spending a fortune. Or maybe there are a few things that annoy you that you'd like to fix. Fortunately, you don't have to pour a lot of money into the property to alter its look, feel and function. Let's take a look at how small modifications could change the way your home looks and feels.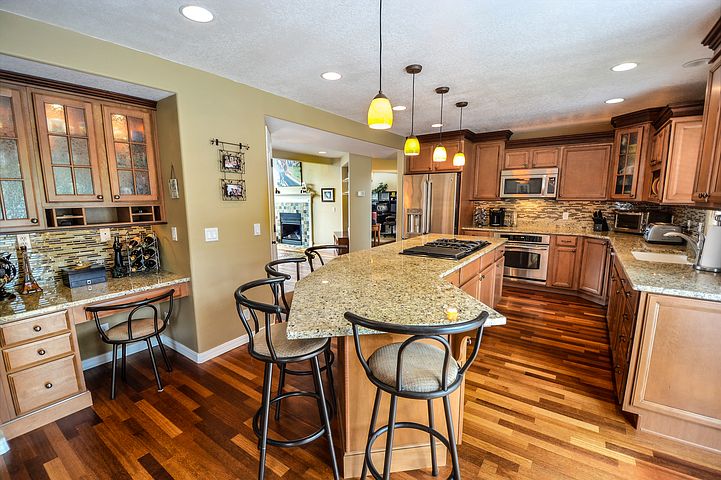 Start at the Bottom
Flooring makes a big difference in any home. Broken tiles, scuffed floors and threadbare rugs make a home feel worn out. You can replace the existing floors for relatively little money, and it can change the feel of an entire room. Dark wood floors make the space feel modern. Light colored carpets and tile make a room feel more spacious. And any updating of the floors will improve the value of the home.
Another thing you could do is add some floating floors as well. These types of floors are very easy to install and can give your floors that new hardwood feel without breaking the bank. Luxury Vinyl Tiles are also a great option. But don't be put off by the name; LVTs vary greatly in price and you can find some for any budget. LVTs are made to replicate the look of materials like marble and hardwood, but without the costs. They also give you the chance to have something that looks like wood floors in the bathroom with no risks of warping.
Look for Little Upgrades that Make a Big Difference
Look for the little changes that could make a big difference in the atmosphere or usability of a space. For example, you could update the lighting in your kitchen with modern LED fixtures. Under-cabinet lighting improves visibility of work surfaces and gives the room a sophisticated atmosphere. Soft-close hinges mean that the drawers and cabinets won't slam shut. This could increase your peace of mind, since little fingers can't get pinched. If you already have bright lights in the living room or bedroom, consider putting in a dimmer switch so that you have more options than on and off.
If you have young children, consider having a vanity step installed in the bathroom. Children can pull it out when they need it, and it stays in place until put away. A vanity step is much more stable than a step stool for children and will look like a drawer when it is not in use. Because it is readily stowed away, it won't create a trip hazard for visitors. When your children outgrow the vanity step, you can convert the niche into a toe kick drawer for extra storage.
Go for Curb Appeal
First impressions matter, whether it is the way you look when you arrive at a job interview or the impression the exterior of your home gives visitors before they even reach the door. This is why you should ask yourself what modifications are perfect to increase curb appeal if your intention is to sell the house. At a minimum, it means cleaning up the yard and making the gardens look nice. It may require replacing the tired looking front door and the cracked windows. But the most important part is making sure that there are no signs of negligence. If there are some missing pavers or the siding is dirty, make sure that you fix those and give your siding a good powerwash. It's really important to pay attention to details as little things could send off red flags for prospective buyers. If you want more ways to increase your curb appeal, you can learn more here.
Create a Clean, Usable Space
Clutter creates stress. It makes it hard to clean a space as well. You can start by getting rid of all the beauty tools and half-empty containers that should be thrown out. Then you can free up counter space by putting in soap dispensers. You could add a second dispenser for lotion if someone in the household uses it often.
Gadgets are an indispensable part of modern life, but they often collect in a cluttered mess on desks and dressers. One thing you could do is add a built-in charging station. They could make a great addition to your kitchen or home office, though they can be put in any room of the house.
Add Stone Veneers
Stone veneers are veneers that are made to replicate the appearance of a brick wall. Having brick installed inside the house is a large project, and could set you back a bit. Stone veneers, on the other hand, are much easier to install and less costly. You'll have tons of options to choose from as well. They could be a great choice if you want to accentuate a fireplace and give it more of an authentic rustic look.
Give Your Bathroom a Quick Facelift
Bathrooms are notoriously expensive to renovate, but you don't have to turn it upside down if you want to give it a second life. If you're feeling adventurous, you could always use old or reclaimed furniture and turn it into a vintage vanity.
Something as simple as getting a bigger mirror and framing it could make a world of difference. You could also change the faucets and go for something more modern. And consider changing the handles and towel racks as well if you want to complete the look. Don't forget the windows either; choosing a nice bathroom curtain with a fun pattern that fits with the bathroom's color palette won't go unnoticed. These few simple suggestions will enhance the feel and functionality of your home and won't cost a lot of money or require much time to do. Make sure that you consider these options if you want to improve your home without breaking the bank.