Vespa is one of the most recognizable scooter brands worldwide, synonymous with modern Italian style and affordable elegance. However, looks are not everything! Here are five reasons why you should buy a Vespa scooter.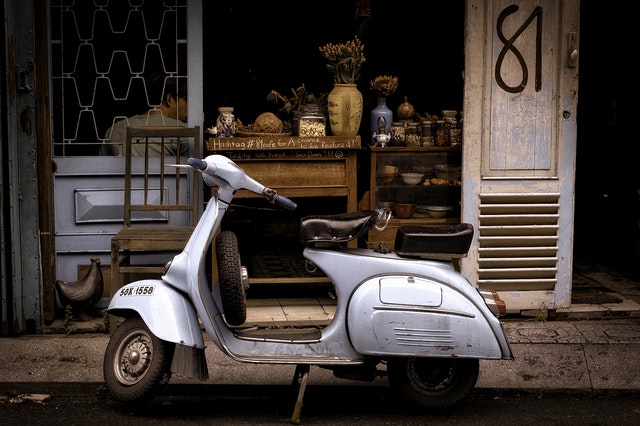 1. Affordability
The Vespa, launched in 1946, was originally designed to provide an affordable method of transportation to an Italian population dealing with the country's economic depression following defeat in the Second World War. This legacy of affordability continues into the present day: a new Vespa scooter retails from around $4,200, a massive bargain in comparison to the average cost of a new car.
2. Established brand
Vespa is arguably the most popular brand of scooter in the world, but how did it gain this reputation? The Vespa brand is manufactured by Piaggio, an Italian motor vehicle manufacturer with roots in the very birth of the automobile trade. Founded in Italy in 1884 as a manufacturer of railway carriages and locomotives, the company switched to manufacturing military vehicles during the First World War, before working on a mass market scooter in the years following the Second World War. This became the Vespa, and it has remained popular ever since its 1946 launch, impressing customers with its reliability, affordability, and style.
3. Green innovations
As we become more concerned about environmental issues, the automotive industry is looking for ways to combat the greenhouse gasses produced by exhaust fumes. As well as developing hybrid scooters, in 2019 Vespa launched the Vespa Elettrica, an electric scooter. With an energy saving lithium battery and a range of 100km, the Vespa Elettrica provides the comfort and elegance for which the Vespa brand is known, whilst eliminating carbon emissions. Customers are left safe in the knowledge that, whilst they are reducing their carbon footprints, they are in no way reducing their style.
4. Elegant design
With its elegant curves and minimalist design, the Vespa scooter has become a recognizable emblem of Italian modernist design. Indeed, the scooter gets its name from its design: 'vespa' means 'wasp' in Italian, referencing the scooter's large rear end connected to a slimmer front part with an antennae-like steering rod. In recognition of its iconic design, the Vespa has been exhibited at the Guggenheim art museums in New York and Bilbao, the Louvre, and the Museum of Modern Art in New York.
5. Popular scooter brand
The Vespa has proved enduringly popular with people across the world since the early days of the brand's existence. Ever since Audrey Hepburn rode on a Vespa alongside Gregory Peck in the 1953 film Roman Holiday, not a year seems to go by without a celebrity being photographed riding one of these scooters. It seems, too, that the Vespa is a completely democratic design, drawing fans with vastly different tastes. From Dean Martin to Gwen Stefani, Italian teenagers living la dolce vita in the 1950s to mods in Swinging London, it seems as though no one can resist the sleek modernist elegance of a Vespa scooter.