When you have small children in your home, the way you live life has to center around what is safe and best for the kids. The kitchen can be a very unsafe and dangerous place for children, but it doesn't have to be.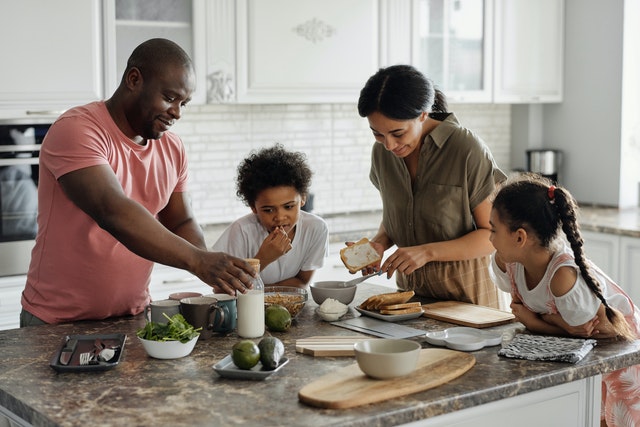 There's much you can do to create a kitchen for your home that is safe and welcoming to your children. Take a quick read through this brief compilation of tips for designing a kid-friendly cooking space, and start considering what you can do to build your perfect family kitchen today.
Choose your surfaces with care
The floors in your kitchen will see a whole lot of foot traffic and spills if you have children in your home. The countertops should be easy to keep clean and strong enough to handle the kids trying to cut their food up directly on the counter.
Instead of installing granite countertops, try quartz. Quartz is an excellent substitute for granite, and it is a less porous material making it easier to keep clean. Also wooden surfaces are always good, because they only get better with age and wear.
Create a pantry space just for the kids
It's important that your children can grab their own food from time to time. Work your children's hunger into your design, and create a pantry space just for the kids.
Fill their pantry space with healthy snacks like fresh fruits, granola bars, whole wheat baked goods, and other tasty treats. You don't have to worry about the kids making healthy choices when healthy choices are all they have to make.
Furniture that is comfortable for the family
One of the most important elements of a kid-friendly kitchen is creating a place where they can sit down for a meal. You'll need pint-sized seats for your little humans, and there are more than a few ways to creatively integrate a kid's space into your kitchen.
A two-tier island design creates a central space for the young and grown to eat on their own perspective levels. You'll also want to keep a step stool handy, so the kids can chip in while you cook.
Add a blackboard wall
Make some fun for the kids and a great communication tool by devoting one of your kitchen walls to being a blackboard. The kids can color and draw on the lower part of the wall, and you can use the upper portion to make notes, grocery lists, or even a comprehensive honey-do list.
Get creative with storage
If you have really young children, what's in your cabinets could be dangerous. Design your cabinets and drawers to keep your kids safe. Locks and latches go a long way for keeping curious hands out of trouble.